When it was reported recently that Brook Street in Broughty Ferry was amongst the top 10 streets in Dundee for drivers receiving parking tickets, it didn't come as a surprise to those local shoppers and business owners who think that the current 45 minute parking restrictions put people off parking on the high street.
So perhaps it shouldn't come as a surprise then that parking was one of the main concerns to have been expressed when The Courier visited Brook Street to take the pulse of local retail.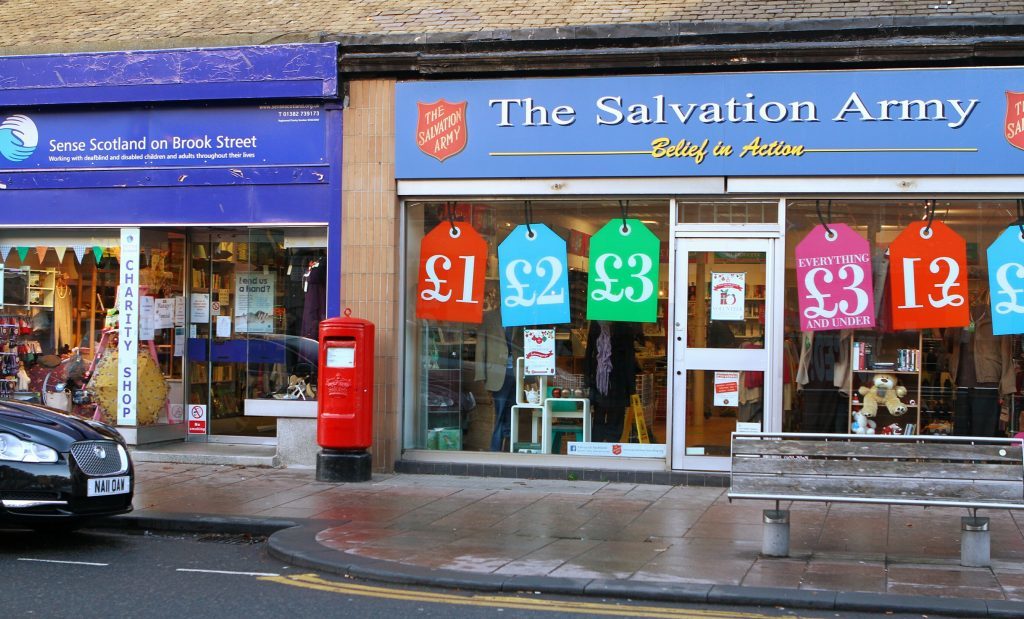 © DC Thomson
Charity shops on Brook Street, Broughty Ferry
At face value Brook Street is just as busy now as it was back in the day with pictures from The Courier archives show a bustling high street back in the 1960s and 70s.
But like so many town centres, the mix of shops has changed drastically.
Town centre supermarkets like Wm Low and Coopers have long since been replaced by Tesco Express and Marks & Spencer.
© DC Thomson
Coopers supermarket in Brook Street, Broughty Ferry, 1963
And whilst there is still a good mix of independent shops in Brook Street, it's also striking how many charity shops now exist.
Lewis Bell, 53, co-manager of Scott Bros family butchers, which was established in 1935, has worked in the butchery trade for 40 years. Mr Bell says Scott Bros had used the It Is On app for promotions to try and tap into new customers and find out about their habits.
He says the reason many people now give for not shopping on the high street is that they "don't have time" – and many are put off by the parking situation.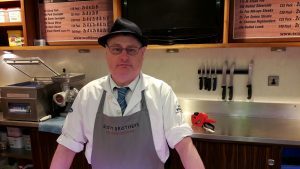 © DC Thomson
Lewis Bell butcher
He explains: "People are so busy these days that they can drive to Tesco or one of the other big supermarkets and use their car park for free. It's a one stop shop.
"After the horsemeat scandal we had more customers coming in for a while because they wanted to know where their meat was sourced from farm to plate. Ours is all local. But before long many started drifting back to the supermarkets."
Mr Bell says there had been a "huge change" in the mix of shops.
He adds: "One of the things that I've noticed – and it's going to quite snobby – is the increase in guys begging in the Ferry.
"Five or six years ago that was never heard of. What's changed? What's bringing them here? There's a huge change in how people shop, what they want to pay for? How they pay for it as well."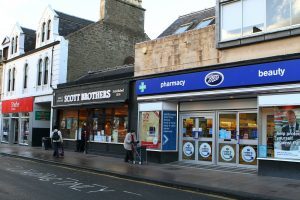 © DC Thomson
Brook Street, Broughty Ferry today
Yet Scott Bros still prides itself on quality meat and personal service to its customers.
And it expects Christmas and New Year to again be an incredibly busy time.
Duncan of Jordanstone College of Art trained jeweller Nicola Morrison, 35, originally from Glasgow and now living in Broughty Ferry, is one of four partners in Pretty Fly Workshop, which opened on the High Street in May.
It specialises in hand-made products from around the UK with a local emphasis, and includes an onsite jewellery workshop.
The premises opened in a former chip shop – which Nicola and her partner considered taking over as a going concern.
© DC Thomson
Jeweller Nicola Morrison has recently opened a shop on Brook Street, Broughty Ferry, where she is optimistic about the future
But they decided to go for the hand-made products venture because they felt it was "something missing" from what they regard as a bustling high street.
"As shoppers ourselves we always saw it as nice and busy and saw a gap in the market for it," she says.
"Since we've opened it's been really good – better than we hoped for – and people have been really good about what we are trying to do. So far the reaction we know of has been very positive and we already have some regular customers."
Nicola said that when shops do become empty on Brook Street, the units tend to be "snapped up pretty fast".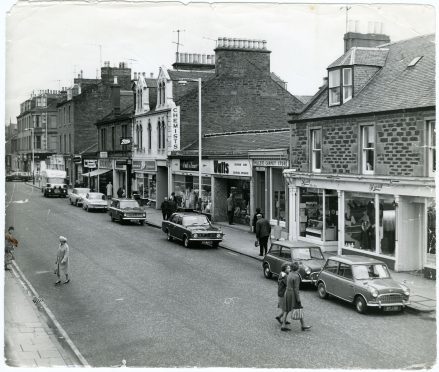 © DC Thomson
Brook Street, Broughty Ferry in 1971
"That's why when we got the opportunity to open up here we just grabbed it," she adds.
Nicola is more positive about the current 45 minute parking arrangements, however.
"I think it's quite good that people come down and go straight into shops. But I think more, longer space parking spaces would be good. But people are never more than 10 minutes from their cars to be honest. Compared with Glasgow or Edinburgh, that's nothing."
But what do shoppers think?
Eighty-eight –year-old Irene Walker, a Broughty Ferry stalwart who is the daughter and grand-daughter of Broughty Ferry dentists, is particularly pleased that a new restaurant venture has brought new jobs to Brook Street.
© DC Thomson
Broughty Ferry Stalwart Irene Walker is 88 and has seen many changes
Whilst she was sad to see the former award-winning Robertson butcher on Brook Street close in September 2014, she is pleased that Forgan's Bar and Restaurant has since opened on the premises.
"They are employing a lot of young people which is great for the area," she says.
The mother-of-three, who has four grand-children and three great grand-children, has fond memories of her mother going to Goodfellows for coffee when she was a child.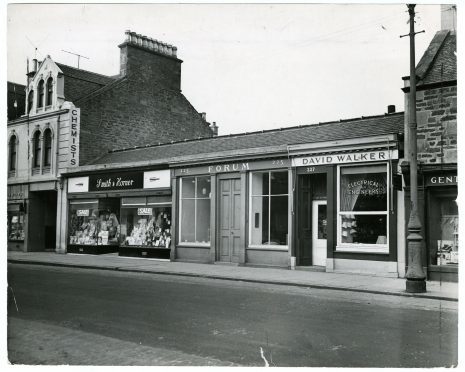 © DC Thomson
Brook Street, Broughty Ferry in 1963
"I sometimes went along – although sometimes I got bored," she smiles.
But whilst her mobility is now limited following a hip replacement last year, which forced her to give up driving, she does still try to support the high street.
"I think it is important to have a vibrant High Street," she adds.
"Marks and Spencer is particularly great for Broughty Ferry."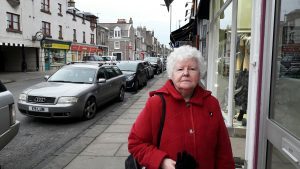 © DC Thomson
Margaret McMinn on Brook Street – an 'incomer' after 52 years in the Ferry!
Another octogenarian reflecting on Brook Street changes is Paisley-born Margaret McMinn, 81, who has lived in Broughty Ferry for 52 years.
"Paisley is my home town and Broughty Ferry is my home – but I'm still an incomer!" she laughs.
Margaret remembers that when she first moved to the Ferry, where her husband was from, she remembers a lot of butchers, grocers, and several supermarkets including Wm Low and Coopers. She also remembers the old Ruthven P.Smith hard ware store, now occupied by a florist.
© DC Thomson
Wm Low's, Broughty Ferry, in 1961
But she can't help but note the numbers of charity shops and coffee shops now prevalent.
"When you get older you don't like change,"she smiles.
"There's always been a lot of pubs in Broughty Ferry – so I understand – and a lot of the churches have closed, which is sad – another sign of the times.
"I must admit I do often shop elsewhere. I'm just back from Aldi and B&Q with my grand-daughter. We're limited here with Tesco Express and Markies – and they are not always cheap!
"There's also a bus stop across from my house that takes me straight up to Sainsburys.
"But I do miss coming into the supermarkets in the centre. It was always nice to know the staff and to catch up."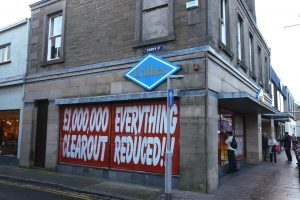 © DC Thomson
Pre-Christmas sale at Gillies on Brook Street, Broughty Ferry
Dundee City councillor Derek Scott, who represents Broughty Ferry, says it's a popular destination for shoppers who are drawn to the town by the variety of independent retailers, boutiques, specialist shops, cafés, restaurants and pubs, which all contribute to its vibrancy.
He adds: " While supermarkets and internet shopping have undoubtedly had an impact I think people still prefer the personal touch that smaller shops provide."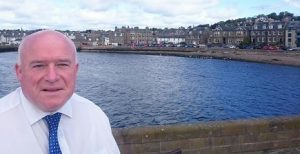 © Supplied
Dundee city councillor Derek Scott represents Broughty Ferry
Mr Scott says that despite some tough trading conditions in recent years, Broughty Ferry has out- performed similar district centres and has had fewer vacant units thanks to the hard work of the existing businesses and the collaborative approach taken by the local traders association in promoting the area and arranging events that highlight it as a great place to visit.
He says the city council has a significant part to play in maintaining and enhancing the area through its local development plan, promoting it as a visitor destination in its tourism strategy, and by investing in environmental and infrastructure improvements.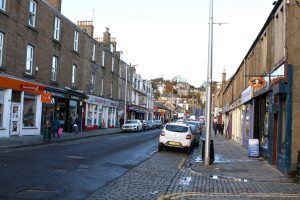 © DC Thomson
Looking up Gray Street, Broughty Ferry, towards the junction with Brook Street.
He adds: "I'm aware that parking remains an issue, not just for shoppers but also residents.
"A number of additional on street spaces were recently provided following a review of waiting restrictions and a further informal review is being undertaken of the loading bays to see if more on street parking spaces can be created.
"Broughty Ferry unsurprisingly is a popular location for charity shops and while I would prefer to see fewer they do have a vital role to play in helping to fund their organisations, and it is better that a shop unit is occupied than left sitting empty for a prolonged period."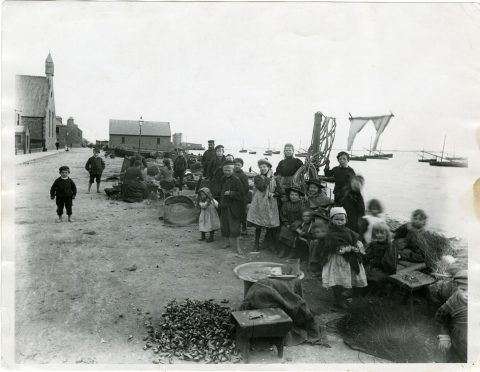 © Dundee City Library
Fisher Street, Broughty Ferry circa 1896. Note the barefooted children!
A Dundee City Council spokesman said: "The city council has an ongoing dialogue with retailers, partners and investors about the way forward for retailing generally across the city.
"We regularly monitor retailing performance and our strategies respond to shopping trends.
"Careful consideration is always given to parking in local shopping areas and this is an issue that is regularly checked."
Source: The Courier